Solving the toughest industrial problems faster and safer.
We provide alternatives to harsh chemicals, with safer, nontoxic products that deliver power, performance and safety.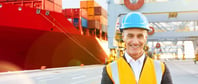 Connect with us.
All of our products are driven by extensive research into real-world needs. Each of our chemical alternatives has been made possible by cutting-edge science and technology. Each is designed to be environmentally friendly without reducing performance. All represent the new benchmark in solving industries' dirtiest, most challenging problems.