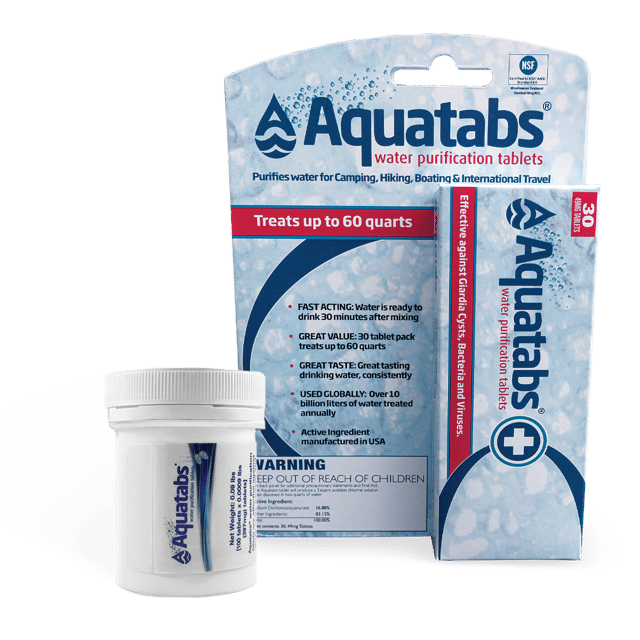 Aquatabs.
Clean drinking water. Anytime. Anywhere.
Aquatabs are convenient tablets for good-tasting water treatment and disinfection. Made for outdoor exploring, RV'ing, boating or for emergency disasters it kills 99.99% of viruses and bacteria in water to prevent cholera, typhoid, dysentery and other water borne diseases.
Water when you need it most.
Clean drinking water is a critical element for survival. Aquatabs helps ensure that clean drinking water will be available no matter what comes your way. The small portable tablets make it easy to take them anywhere and be prepared for any situation.
Fast Acting
Water is ready to drink 30 minutes after mixing
Great Value
30 tablet pack treats up to 60 quarts
Great Taste
Great tasting drinking water, consistently
Used Globally
Over 10 billion liters of water treated annually
Made in USA
Active Ingredient manufactured in USA
Clean drinking water in only 30 minutes.
Aquatabs are effervescent tablets which kill 99.99% of viruses and bacteria in water to prevent cholera, typhoid, dysentery and other water borne diseases. With a shelf life of up to 5 years Aquatabs is a reliable source of refreshing clean drinking water when you need it most.
The world's number one water purification tablet.
​
Ready in only 30 minutes anytime anywhere.

​

Approved by the US Environmental

Protection Agency (EPA) for routine treatment of drinking water and

The World Health Organization (WHO) specifications for drinking

water.

Certified to NSF Standard 60 for drinking water. Ensures that the

products are safe both for consumer and environment.

Used around the world for over 30 years with ZERO side effects ever

being reported.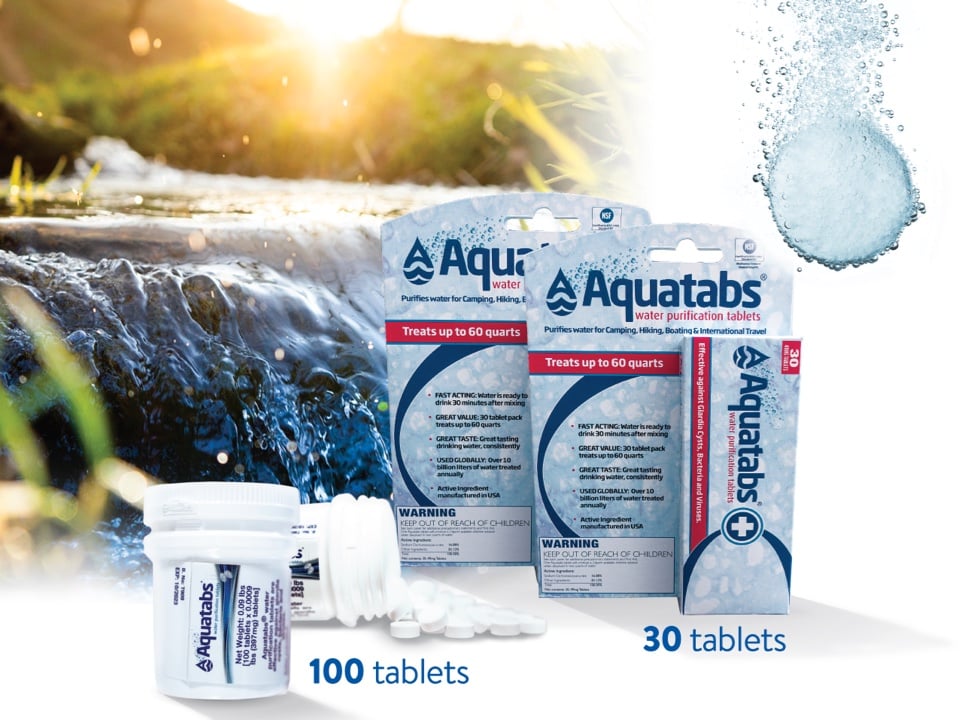 Be prepared for disaster relief.
The National Oceanic and Atmospheric Administration (NOAA) predicts that Atlantic hurricane numbers will continue to rise.
Small, portable Aquatabs are easy to toss in an emergency kit so you can have clean drinking water no matter what weather comes your way.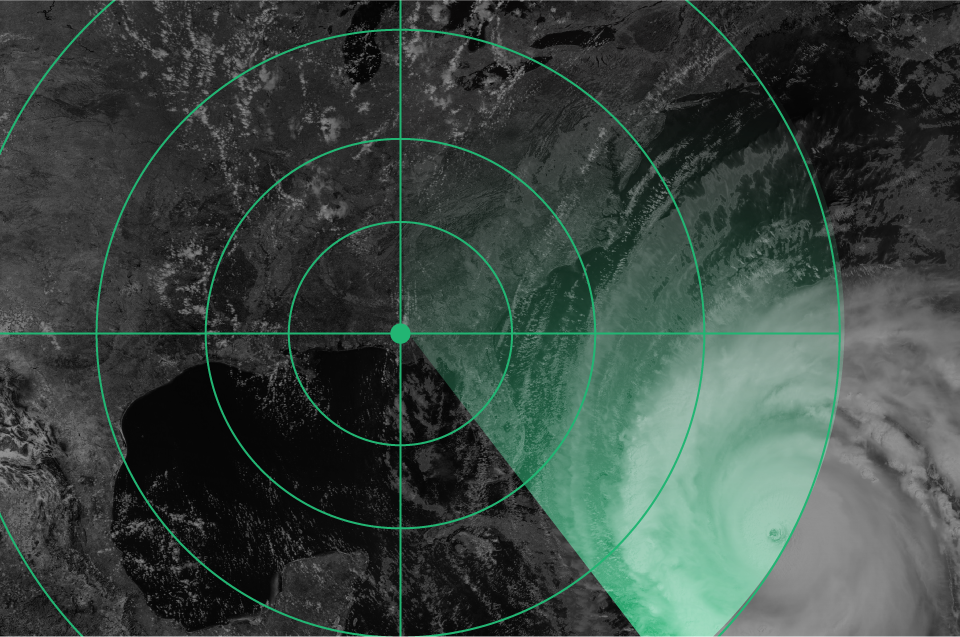 Be prepared no matter where you are.
Water purification tablets ready when you need them most. Use Aquatabs:
Boating
Camping, Hiking, RV'ing
Travel
Disaster Relief
Home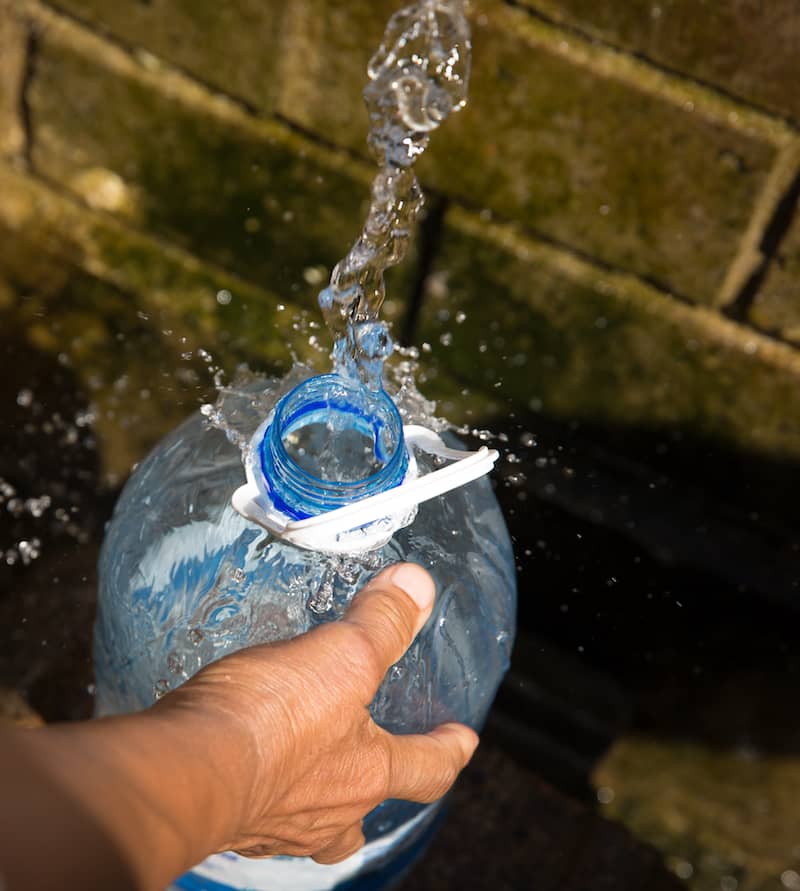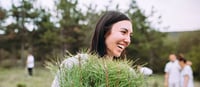 Connect with us.
All of our products are driven by extensive research into real-world needs. Each of our chemical alternatives has been made possible by cutting-edge science and technology. Each is designed to be environmentally friendly without reducing performance. All represent the new benchmark in solving industries' dirtiest, most challenging problems.